Intelligent Social Media Monitoring
Social media performance is important for any brand, but for sponsors it can be essential.
The presence on the sponsor's social media channels as well as on the channels of the clubs and associations is tantamount to a permanent activation of the commitment, which also reflects information and reactions to the sponsorship in real time.
Adequate monitoring of these activities is therefore all the more important:
WHAT IS TRACKED?
impact&emotions analyses all brand-related posts in general as well as the buzz on social media that is clearly related to the brand's sponsorship engagement. This allows us to contrast how sponsor-related posts compare to general posts. How much can user engagement be increased if the post is thematically related to the sponsorship platform?
WHAT ARE OTHERS SAYING ABOUT MY BRAND?
We also take into account the numerous posts by social media users on non-company social media sites (earned media share), whose feedback is valuable and important for the sponsor.
For example, not only are all posts on the sponsor's country-specific channels tracked, but also club pages and general user buzz on social media.
WHAT IS THE SENTIMENT?
Using AI, impact&emotions also performs a semantic analysis of all posts, so that the monitoring also functions as an early warning system. In this way, we capture the mood and can counteract undesirable developments in individual markets or among specific interest groups in good time.
SOCIAL MEDIA PERFORMANCE KNOWS NO NATIONAL BOUNDARIES
With monitoring, we are able to make a country-specific distribution that is in line with the sponsor's future strategy. At the same time, we take into account cultural peculiarities such as linguistic double interpretations or spellings, which can also be decisive for the sponsorship strategy.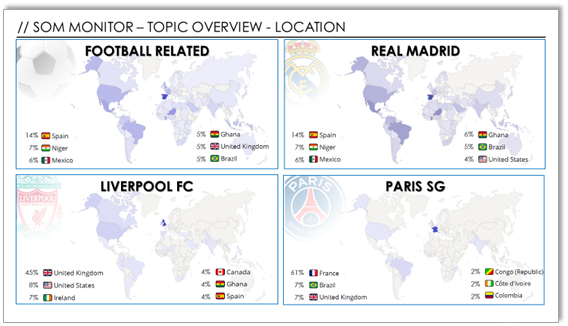 WHICH PLATFORMS?
The analysis of the respective social media platforms are subject to different restrictions, but we currently recommend tracking on Facebook, Twitter, Instagram, YouTube and TikTok.
Do you know which of your company's channels is the most important among sponsorship influencers?
Archive